The Story
The Story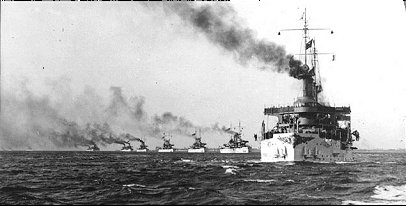 Flagship USS Connecticut leads Atlantic Fleet
battleships to sea, 1907.
Navy's Holiday Supplies on the Way to the Sicilians
Good Things for Sailors
Go to Earthquake Sufferers

NEW YORK, Dec. 31. - The United States supply ship Celtic, which was to have met the returning battleship fleet with holiday cheer sailed out of New York harbor this afternoon on an entirely different mission, but without changing a single item of her cargo. She will go direct to Messina, to give a million and a half of navy rations to the earthquake sufferers.
The idea of changing the Celtic into a relief ship came to her commander, Harry McL. P. Hust, last night. It met with the immediate approval of Rear Admiral Casper F. Goodrich, commandant of the navy yard, who promptly communicated with the department, at Washington. Red tape was cut out in a jiffy on the ground of humanity, necessary preparations were hurried at the yard, and the Celtic, with Christmas trees still lashed to the mast-heads - it had been designed to make the Celtic the Christmas ship for the fleet - sailed late today. Her supplies will not be eaten by American sailors, but by suffering survivors of the Calabrian and Sicilian disaster.
Will Account to Congress Later
In the face of the overwhelming need of the Italian, the department is considering its own men second; how they will be provided with food is something that will be considered later. The Navy Department takes fall responsibility for this sudden gift of supplies belonging to the United States government to the Italians without warrant or law. It probably relies upon Congress to approve of its action, but the expectation is that Congress will be only too well pleased at this evidence of American pluck and of the 'get there' qualities of the American navy.
Just as its ships were the first to reach Kingston after the West Indian earthquake disaster, so the American naval flag on the Celtic may be the first to bring actual food supplies to Messina from any country, even though we are 3,000 miles away. Certainly the ship has been dispatched to sea in record time - in less than eighteen hours after her captain conceived his humane plea. ...
Philadelphia Inquirer, January 1, 09, 14:6