Smoking Room
Smoking Room
There are social as well as intellectual joys on board ship. There is, for instance, the Smoke Room, where many congregate to enjoy the fragrant Havana, or some favorite brand in the briar bowl. The visible satisfaction - the placidity and peacefulness of its habitus - can be observed at a glance.
White Star Line booklet, circa 1908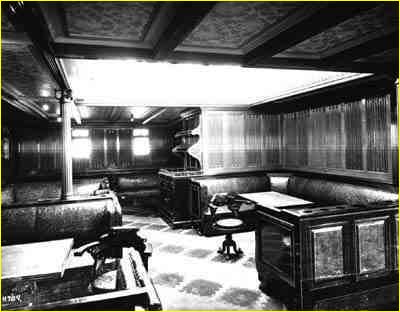 The other steamers, all of great tonnage and fitted with twin-screws, which go to make up the Boston Services of the White Star Line are the "Canopic," "Romanic," and "Cymric."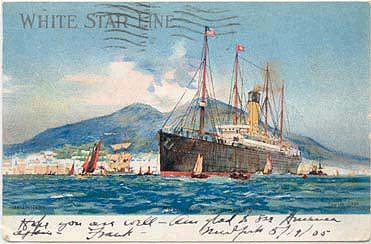 Republic at Naples
The "Republic," it may be mentioned, holds the record for the fastest passage between Queenstown and Boston and Boston and Queenstown. These steamers, with the "Cretic," also constitute a portion of the White Star Services from Boston and New York to the Mediterranean, including calls at Azores, Madeira, Gibraltar, Algiers, Palermo, Genoa, Naples, and Alexandria, according to the season.
White Star Line booklet, circa 1908
[See also White Star Line Letter]