MAG's Recent Salvage Efforts
MAG's Recent Salvage Efforts
MAG Salvage.
Maritime Analysts Group, Inc. (MAG) is our affiliated company.
The first stage of the operation was to locate and identify the S. S. REPUBLIC. After approximately five years of preparatory research into the S. S. REPUBLIC's possible location and 2 1/2 days of actual physical search employing side-scan sonar technology and sport diving techniques, the precise location of a vessel, presumed to be the S. S. REPUBLIC, was determined by Captain Bayerle in August 1981 at a cost of approximately $26,000. Positive identification of the Vessel as the S. S. REPUBLIC was made in July/August 1983 by MAG and its then contractor, Underwater Completion Team Inc., a Louisiana commercial diving company, at a cost of approximately $65,000. By comparing the Vessel's remains with the original external "rigging" plans of the S. S. REPUBLIC acquired by Captain Bayerle and with the recovery of dinner plates bearing the White Star Line name and markings, the first stage of the operation was completed.
The second stage of the operation, an extensive survey in preparation for stage three, full-scale salvage, was conducted by MAG in cooperation with Wolf Sub-Ocean Ltd., a major Canadian underwater contractor, in July/August 1985 at a cost of approximately $80,000. Stage three operations, the full-scale salvage of the S. S. REPUBLIC, commenced in July 1987.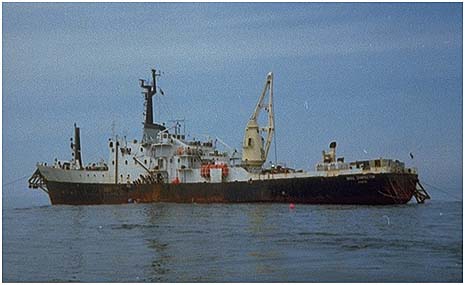 MAG's 285 foot salvage vessel, SOSI Inspector, is shown 4-point moored on-site, 1987. The SOSI Inspector, formerly Oil Endeavor, was purchased for $2 million, and was equipped with a 40 ton crane, 12-man 1,000 foot saturation diving system, dynamic positioning and four point mooring systems. Additional equipment included three 1-Man Mantis Duplus Submarines (two were on-site), three 4-man deck decompression chambers (1 on-site), and a Scorpion ROV (remotely operated vehicle). The diving, submarine, ROV and ship's complement - the entire on-site salvage team totaled 42 men.
During 1987, MAG conducted on-site salvage operations with a 9 man saturation diving team, 3 man bell team, 10 hour dive shifts, 2 men out-the-bell, 24 hours per day, seven days per week, for 74 days - in excess of 3,000 man-hours physically on the wreck...